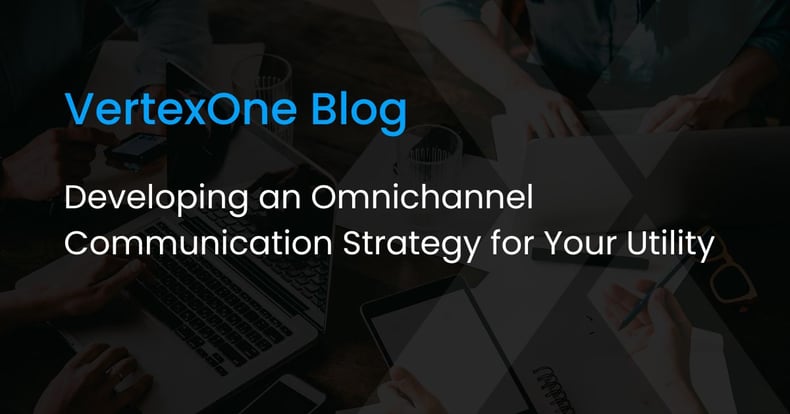 Omnichannel communication for utilities isn't a two-way street—it's a multi-lane highway. Why? Some forms of communication require a single touchpoint, such as a move-in date reminder. Other notifications are ongoing, like monthly billing statements, energy-saving tips, or meter reads. Finally, some types of communication are brief and sent in real time, such as emergency-related alerts or overusage warnings.

One thing is for sure—the silent utility is a thing of the past. Omnichannel communication has become a vital aspect of daily operations for utilities. Modern consumers value transparency, frequent communication, quick responses from their utility providers, and a seamless digital experience.
Why does omnichannel communication matter for utilities?
To build trust in your utility, you need to establish effective two-way communication using your mobile, social, and online channels. This will also help you gather the right customer-related data and track and measure first-call resolution rates. High call volume often means that a customer's preferred communication channel couldn't resolve the issue, and omnichannel follow-up and digital conversions can help.

Why does omnichannel communication matter? Because it:
Establishes and builds trust in your utility.
Maintains industry-level standards or improves customer satisfaction.
Allows for more self-service options, leading to fewer incoming calls and allowing customers to resolve issues on their own the next time they occur.
Increases first-call resolutions and keeps call response times below industry benchmarks.
How should utilities evolve the way they send messages?
A recent survey conducted by utility research and consulting firm E Source found that consumer preferences are changing when it comes to utility providers. The number of people who prefer receiving phone calls when outages occur has decreased significantly. Conversely, customers who prefer receiving text alerts increased by 14 points, and those who prefer receiving emails increased by six points. Finally, those who opted to receive alerts via their mobile app increased by four points.

When submitting a service request or other urgent need, a phone call is still the most popular choice of communication. However, email preference grew in popularity, increasing by seven points. Text messaging preferences also increased by seven points, and mobile app notification preferences increased by five points.

To make monthly bill payments or take care of other routine needs, more than half of customers prefer visiting a utility's website or receiving email reminders. Paperless billing preferences also climbed by five points, and there was a significant increase in mobile app and text messaging preferences when making payments.

For billing alerts, E Source found that more than half of customers still prefer to receive bill notifications via email. However, the preference for text alerts rose 10 points, and more customers were interested in using their mobile app to make payments.
How can omnichannel communication help utilities target digital customers?
The average customer interacts with their utility provider for just 10 minutes each year, and 44 percent of energy consumers say they have no interest in communicating with their utility at all.

So what's the best way to ensure positive experiences in customer interactions? Keep it short, simple, and sweet, and always follow up. Because many consumers have little interest in communicating with their utility, make those ten minutes of interaction count!

Regardless of the communication method, the CIS and portal console should communicate with one another. That means if a customer calls in, agents can confirm their contact information and let the customer know they will be receiving a follow-up message asking them to sign up for the self-service portal.

Here are a few steps you can take to ensure you're using the right communication channels to send the right messages to the right customers:
Use data to send the right messages through the proper channels at the right time based on digital preferences, age, income, and location—even down to the block where the customer resides.
Identify which end users are most likely to adopt digital self-service solutions. Who is your ideal digital customer? What types of omnichannel communications do they prefer? For example, it's common for younger relatives to manage the online accounts of elderly customers. Do they have the information and resources needed to make payments or receive alerts seamlessly?
Provide more payment options and quick, easy access to tools that help customers track their usage.
Offer more engaged customer service when necessary.
Omnichannel touchpoints are critical for your utility.
From transparency to convenience, modern utility customers now expect more from their commodity service providers. Download Meter Moments: A Guide to Utility Omni-Channel Communication to learn more about the importance of omnichannel communication for utilities. From handling high bills to sending outage alerts, this guide can help you provide a better experience for your customers.