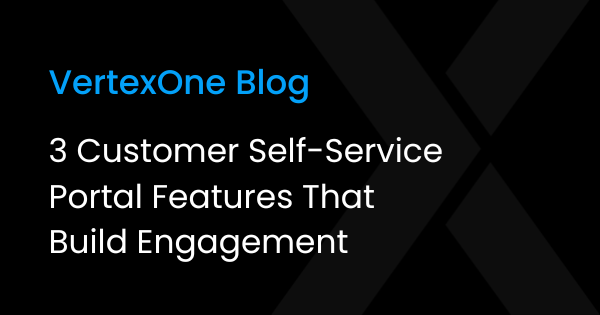 There is no doubt that customers today have certain expectations for services, especially when it comes to technology and transparency. More and more, utility customers want the ability to find information, make updates to their online accounts, and pinpoint solutions to issues before contacting their utility's customer support team. The right customer self-service portal features allow utility customers to carry out tasks independently, which leads to a reduction in your support team's workload.
Customer self-service portals allow customers to:
Access their information in a quick, convenient way.

Request services and report local outages.
Access or change their information, allowing customer support representatives to spend more time solving complex issues.
Important Customer Self-Service Portal Features
The right utility self-service portal will give a customer the ability to:
Access an easy-to-navigate knowledge base that includes FAQs, articles, videos, guides, advice about utility usage, tips on utility bills, and more.

Update their address, phone number, name, and communication preferences.

Stop and start services at new and current addresses.

Reset their password.

Report outages and make service requests.

Gain real-time insights into current and previous utility usage.

Connect with utility customer support specialists through text messaging or an online chat feature.
3 Core Features Your Utility's Self-Service Portal Should Have
The following are foundational features of a self-service utility portal. A software or product that doesn't offer them will be limiting to the customer and your company. Remember, the right technology benefits your business as much as it benefits your customer.
1. Mobile Self-Service Abilities
More Americans are accessing, viewing, and paying bills on their mobile devices. A comprehensive customer self-service portal should allow utility customers to complete the following tasks using their smartphones:
Create and update their utility profiles

View current and past consumption

Check payment history

View billing data

Pay current bills

Update payment arrangements

Chat with customer support representatives

Sign up for notifications on any internet-connected device
2. Utility Program Enrollment
Another vital customer self-service portal feature is the ability to sign up for customer assistance programs or other billing programs online or on mobile. Customers should also have the option to receive links to their monthly bills via text, mobile alert, or email.
Along with paperless billing, these self-service enrollment options could include autopay, energy efficiency programs, low-income assistance programs, and efficiency rebates.
3. Personalized Customer Experiences
Modern self-service portals should let utility providers view a customer's current and past bills, previous addresses, special requests, and more. This saves time when the customer contacts the utility company because they don't have to explain their specific situation.
A utility self-service portal should allow customers and utility support staff to view the following information:
Payment and billing history

Previous service requests or outages

Prior moves, service updates, or changes

Recommendations to enroll in particular programs
Advantages of Self-Service Portals
Beyond saving your customer support specialists time to focus on more essential tasks instead of answering common questions, customers are given the means to solve issues on their own. This can reduce friction in engagement, bill pay, and lead to higher levels of satisfaction in the service provided. Consider your own habits. We're willing to bet you turn to your phone or computer when you need to look into an account you own, especially if it's for something simple like a summary of a service or to check if a bill has been paid. A self-service portal saves both a customer's and support specialist's valuable time and resources.
Learn What Your Customers Want
What features do your customers want in a self-service portal? Obtaining relevant data about utility usage and customer behavior may seem overwhelming, but it doesn't have to be.
Learn how to better serve your customer base using data analysis, past consumer demand, and more in our on-demand webinar, "Using Data to Inform Digital Tactics and Improve Customer Engagement."