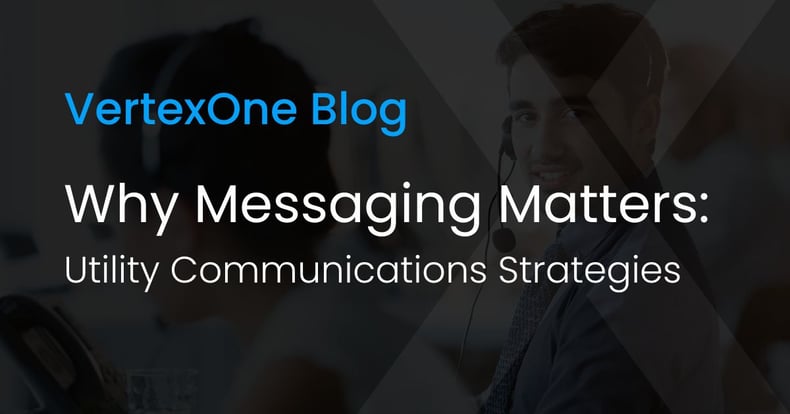 The consumer landscape is rapidly changing. Modern customers now expect convenience, quick responses, and a streamlined experience from their utilities.

Why have these expectations evolved? Because digital retailers have forever altered how consumers shop online. The "Amazon experience" is now expected across all types of consumer interactions, and utilities that fail to meet these expectations are at risk of losing customer support and revenue.
Why Effective Utility Communications Matter
How can you improve your utility communications strategies? Every community is different, and demographics such as age, income, location, and more can influence how and when your customers prefer to hear from you. The message, channel, and timing of your utility communications are important:
The right message: Utilities should craft messages that demonstrate empathy, offer support, and work toward improving the utility-customer relationship.
The right channel: Identifying the proper channels through which customers want to hear from you can help produce meaningful, impactful communications.
The right time: Making sure that customers have access to timely updates and information during major projects or service-related issues will help maintain their satisfaction.
Here are a few examples of effective communication strategies used by utilities across the U.S.
Puget Sound Energy
Puget Sound Energy was seeking a better way to increase engagement with its e-bill features, mobile app, and website. How did the utility accomplish this? By running digital self-service campaigns to raise awareness of the many ways it looked out for its customers.

Using visually appealing claymation videos to attract the attention of its customers, Puget Sound Energy saw a dramatic increase in engagement. Website page views increased more than 400 percent year over year, and customers began reporting outages using the mobile app.

The result? Ninety percent of customers consider Puget Sound Energy a responsible brand.
Austin Water's Water Forward Campaign
In 2018, Austin Water launched its Water Forward conservation campaign across multiple social media channels, including Twitter, Facebook, Instagram, Nextdoor, and digital newsletters. The 100-year integrated water resource plan included several initiatives, such as:
An effort to protect the city of Austin's core water supply, working with regional partners to protect the Colorado River and Highland Lakes system through numerous partnerships and conservation efforts.
An initiative to make Austin's buildings more water efficient.
An effort to mitigate the impact of drought, limiting Austin's access to water when core surface supplies are running low.
Efforts to upgrade the city's current water meters to digital meters.
Infrastructure and technology improvements, including the implementation of VertexOne's enhanced customer portal. VertexOne's engagement platform gave the utility and its one million residents new abilities, such as alerts for leaks or high bills and more in-depth consumption analytics to help the city oversee resources.
EPCOR USA
One of the largest private utilities in the U.S., EPCOR USA provides water, wastewater, and distribution services to more than 665,000 customers in Texas, New Mexico, and Arizona. It also serves more than 1.6 million customers in the U.S. and Canada.
A rapidly growing customer base created a challenge for the large utility, and EPCOR turned to VertexOne to implement a more effective customer information system (CIS). VertexOne VXcis and VXfieldwork (formerly VertexOne CIS Essentials™ and VertexOne FieldWork™) also helped EPCOR drive automation in the areas of service delivery and customer support, reducing the need for manual processes and input-related errors.
How Do Customers Want to Hear from You?
The marketing campaigns of modern utilities are changing, and the most effective campaigns can humanize the utility and improve relationships with customers. According to focus groups, the content, voice, and style of utility communications matter:
Content: What do customers want to hear?
It doesn't matter, as long as customers understand why the utility is communicating with them and how it benefits them.
Voice: What type of tips and advice do customers value?
Customers want to hear from credible utility employees who offer expertise and tips that can be integrated into their experience.
Style: How do customers want to consume content?
Customers want utilities to showcase content that demonstrates technology at work, blended with imagery that details the downstream impact it can have on their lifestyles.
Boost Your Communications Strategy
The expectations of customers are rapidly evolving, and utilities that fail to adapt can find themselves losing support and revenue. Click here to learn about the next generation of customer communications in our UtilityWide Talk.