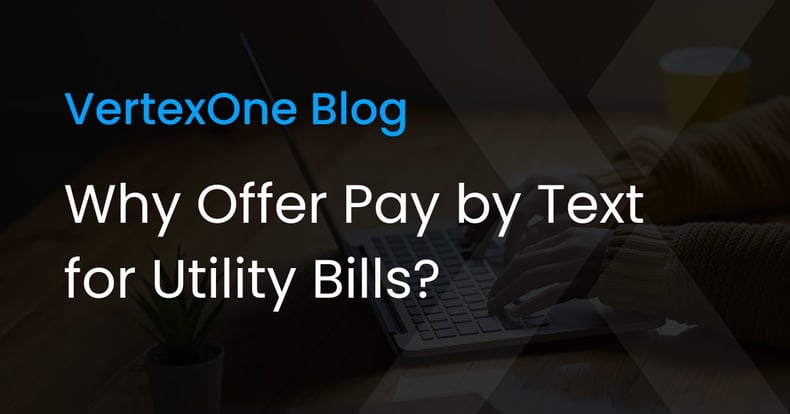 The following post is a partner post written by Invoice Cloud, a leading provider of online bill payments for utilities.
From social media and text messaging to emailing and more, most consumers spend the majority of their time on their phones. So, it's not surprising to learn that mobile payments have become increasingly popular, especially among younger generations. In fact, a recent study conducted by Invoice Cloud, The State of Online Payments, found that 34% of customers actually prefer to make payments via mobile.
When you think of someone making a payment on their phone, you probably assume they're paying through an app or on their phone's web browser. However, a different type of mobile payment option, pay by text, has gained a lot of traction, and it's something service providers should strongly consider implementing for utility bill payment.
So, what exactly is pay by text? Is this something your organization really needs to offer? Below, we go into more detail about this payment option, how it works, and why it's becoming increasingly essential for utilities to offer this as a payment channel.
What is Pay by Text?
In a nutshell, pay by text is exactly what you think it is — a solution that allows organizations to accept payments via text message. To start, customers need to opt into receiving short message service (SMS) messages from their service provider. The provider is then able to send bill information directly to the customer's phone through text.
Typically, a standard pay by text message includes a snapshot of the customer's bill, including:
Which bill needs to be paid

The amount due

The due date

A link to the payment portal
Once a customer receives this text message, there are two different ways they can choose to make the payment.
One option is to prompt customers to click an external link that leads them to your online payment portal. For customers who select this option, organizations should strongly consider utilizing a guest checkout route rather than prompting them to log in.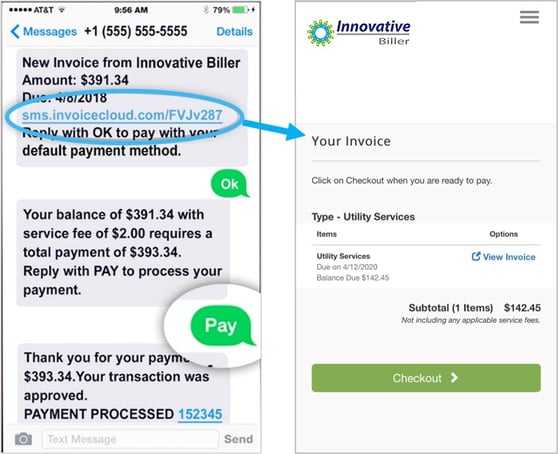 Offering this kind of convenience can significantly increase the customer experience – in fact, 38% of respondents in a recent Invoice Cloud survey said convenience was their number one reason to make a payment online.
The other option is for customers to pay their bill directly within the text message, without having to click an external link. In order to utilize this option, customers will need to save their payment information on the biller's payment platform. Once saved, customers can respond to the text message with a simple "Pay Now" or other a similar prompt to make their payment.
Why Should Utilities Offer Pay by Text?
Increased adoption rates
Offering omni-channel payment options leads to higher electronic payment adoption rates, which translates to happier customers and positive organizational results. When you provide customers with a simple and easy way to enroll in online payments or paperless billing, you're making their lives a lot easier and, in turn, will begin to see increased customer satisfaction (CSAT) scores.
Increased e-adoption also saves your organization money, with decreased mailing and printing costs, and even eliminating lockbox expenses for certain companies. Equally as important is saving time, too! Fewer paper bills means less time spent stuffing envelopes and manually processing checks, and more time spent on communicating with customers and providing exceptional customer service.
Improved internal efficiencies
Aside from increased adoption rates, offering a method of payment like pay by text results in more consistent utility payments overall. When customers are notified of a bill directly on their phone and offered a simple way to pay it, they're more likely to make a payment sooner than later. This not only improves internal efficiencies (i.e., less time processing checks), but gives your company peace of mind knowing most payments will show up on time each billing cycle.
Customer engagement
Engaging with your customers is crucial and having the ability to communicate with them on the channel of their choice is invaluable. With a pay by text option, you can utilize SMS messages for more than just asking them to pay the bill. You can send them reminder notifications, too, preventing forgotten payments.
According to our study, The State of Online Payments, 60% of respondents have missed a bill payment, and half of them agreed to receive a reminder in a text message would have prevented the delinquency.
Enhanced customer experience
As we discussed before, convenience is a major key to providing a great customer experience. Enabling pay by text is incredibly convenient for your customers, especially for younger customers who are more likely to use this channel to make a payment. Offering this kind of convenient experience not only makes it easy for the customer to pay but leads to higher levels of CSAT scores and improved customer retention.
As the preference for paying via mobile becomes more and more popular, so does the need for payment options like pay by text. To be sure you're gaining all of its benefits, ensure the capabilities of your mobile platform are just as robust and efficient as your online payment portal. Similarly, make it as easy as possible for customers to make a payment via text by allowing them to save their payment information and removing roadblocks like prompting them to login.
To learn more about consumers' preferences for online payments, read our full research report, The State of Online Payments.