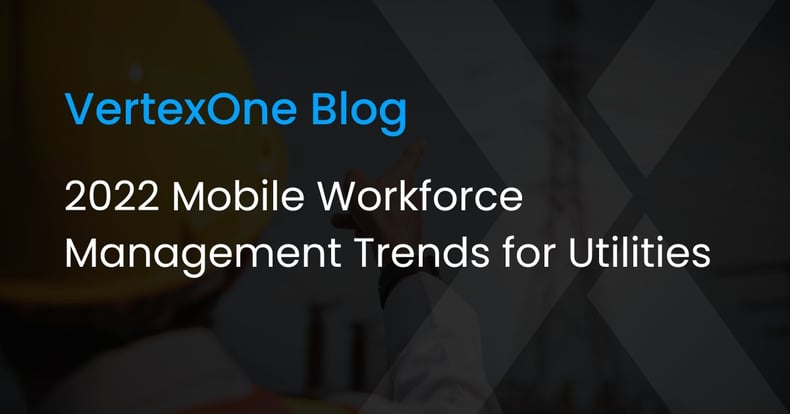 As utility providers change how they operate due to the rise in remote work and ever-evolving technology, the methods they use to manage their workforce must also keep up.
These changes are often complex and require strategic planning before, during, and after implementation. That's why choosing the right modern workforce management technology is imperative. Flexible and adaptable management standards are now more necessary than ever in the workplace, especially for utility companies.
Mobile Workforce Management Trends to Follow in 2022
Mobile workforce management optimizes and streamlines processes surrounding a utility's dispatch teams, field technicians, and more. This is accomplished by thoroughly tracking, recording, and overseeing working hours, tasks, and job locations. Here are some mobile workforce management trends to watch for in 2022:
1. Mobile workforce management solutions that integrate with your CIS
A mobile workforce management solution like VertexOne's FieldWork™ can be integrated with your current customer information system (CIS) or used as a standalone solution. The technology connects your dispatchers and technicians by centralizing labor management, optimizing work schedules, and placing critical updates into the hands of your customers and care staff.
Coordinating field services for utilities can be an expensive and time-consuming task. However, this mobile workforce management trend improves dispatch efficiency, making sure that field technicians have the information they need when they need it. This ultimately leads to significantly fewer reworks and overtime hours, reducing overall operating costs for utility companies.
Whether integrated with your existing CIS or used as a standalone solution, an optimal mobile workforce management solution offers better data transmission to and from the field, more detailed billing, and improved customer engagement.
2. More collaboration between the customer, field tech, and utility
A solution like VertexOne's FieldWork™ also helps the utility, field tech, and customer openly collaborate and communicate during service calls, leading to more efficiency, less wasted time, and higher cost savings.
This mobile workforce management trend works in real-time. An easy-to-use dashboard allows dispatchers to queue up service requests and transmit all pertinent information to field techs, answering any questions and removing any uncertainties that may arise.
A work optimization engine assigns each job to the best available technician, showing dispatch and the field techs all current and upcoming assignments. Once the technician is dispatched, the customer is notified via text, phone call, or email. Following the completion of the task, the field worker uses a mobile app to update the job status with detailed forms and note capture. This data is then sent back to dispatchers and the CIS in real-time.
3. Better scheduling for improved workforce utilization
Another critical mobile workforce management trend in 2022 is improved scheduling and fewer overtime hours!
An optimal mobile workforce management solution can lead to a 50 percent reduction in overtime working hours because fewer visits and reworks are required. And because technicians no longer need to be on the clock after hours, utility providers save money.
Through effective task delegation, utility providers can identify if they are under- or over-staffed, boost productivity and employee engagement, and reduce unnecessary time spent managing workloads and tasks.
Improve How Your Utility Operates
Utility companies are experiencing many new challenges, including higher customer expectations and increased energy demands These developments have redefined the role a CIS plays in the day-to-day operations of utility providers.
Are you interested in learning more about how the right CIS features can support utilities? Download our utility billing guide to learn everything you need to know about how utility billing systems can benefit you.