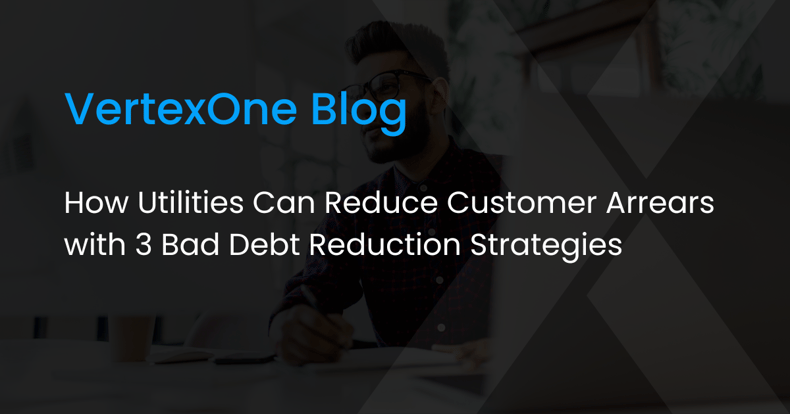 Even without the perils of the economic rollercoaster, having effective strategies to manage billing, payment collection, and ongoing customer support for those facing hardship are the foundation of a utility's financial health.
However, as energy prices continue to rise across the country, reducing and preventing debt is more critical for utilities than ever before. In fact, according to one McKinsey study, utilities that modernized their credit and collection processes not only saw bottom-line benefits, but also improvements to their overall customer experience.

So how can your utility navigate the current economic headwinds while also laying the groundwork to reduce utility arrears in the long term?
The Factors Affecting Utility Arrears
Dealing with late payments and customer debt is nothing new for utilities, but the last few years have made the financial and operating environments more complex.

Some of the biggest factors contributing to overall utility arrears include:
Implementing moratoriums that require utilities to provide services to customers facing financial hardships, including accepting deferred payment plans or government assistance.
Removing late fees for delayed payments.
Investing in additional customer assistance programs, including customer engagement through websites, social media, and social services.
Overcoming customer payment barriers, such as for customers who prefer to pay in person but cannot due to health concerns.
Common Strategies Used Today
Fortunately, utilities have tools and techniques to address customer payment challenges, even as the larger marketplace struggles to find footing.

Here are some strategies your team can consider:
Expand your digital tools.
Tap into the growing customer preference for online billing and self-service options powered by a modern customer information system (CIS) platform.

Industry-leading solutions also enable your team to introduce customizable and adaptable account messaging to reduce delinquent payments. These platforms allow your team to use customer behavior and demographics data to forecast revenue, leverage predictable modeling, and tailor messages to specific types of customers based on their propensity to pay. This technique enabled the Metropolitan St. Louis Sewer District to increase debt collections on delinquent accounts by 30 percent and realize 79 percent fewer accounts assigned to collections agencies.
Introduce additional customer support programs.
Utilities have continued to expand their range of customer support programs. These programs utilize creative techniques to not only meet customers where they are, but also support the overall customer experience.

Some of these programs include:
Pre-payment programs
Expanded payment terms (including for customers in arrears)
Budget-based billing
Virtual energy audits
Rebate and other incentive programs to increase efficient utility use
Unlock the benefits of leading energy billing software.
In addition to the financial and maintenance benefits of cloud-based storage, utilities use industry-leading billing software to create a more integrated approach to managing customer accounts.

Utilities can use the software to give customers details on their usage, billing preferences, and service updates and offer additional flexible customer payments, including through mobile and online platforms. Leading billing software also facilitates enhancements in metering system infrastructure and customer service programs to create a more integrated customer experience.
Experience a Leading Billing Ecosystem
Utilities play a critical role in our communities, providing the energy and services customers need.

However, as customers face financial hurdles and turn toward digital solutions to handle their business, utilities need to make the necessary investments to tackle utility arrears challenges and bolster the overall customer experience.

These are just a few small steps in the longer financial journey utilities and customers are taking together. You can continue the discussion and learn more about other challenges utilities and their customers are facing in VertexOne's UtilityWide Talks. Catch up on our related episode, UtilityWide Talk: Debt Relief and Revenue Security.