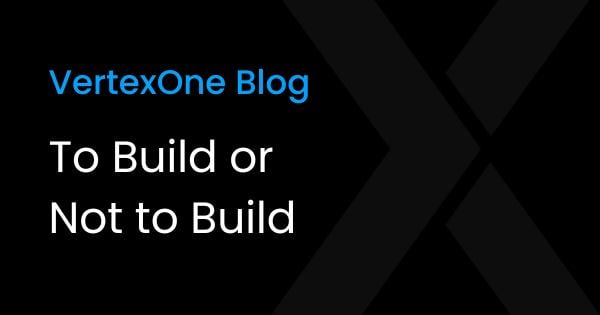 Times have changed and current customer expectations established by other industries are pushing water utilities to re-evaluate their customers' experience. Providing a one-stop shop for customers to view and track water consumption, and take additional self-service actions is quickly becoming table stakes for water utilities of all sizes. Bluefield Research predicts a 17.1% compound annual growth rate for investment in customer engagement software platforms in the coming years. As utilities consider deploying said solution, a myriad of team members from varying departments will likely want specific features or functionalities included with the project. Before long, the list of requirements can begin to feel overwhelmingly long and incredibly unique to the utility's particular needs.

A natural reaction for some may be to assume their needs are so unique that a custom solution must be developed in-house in order to adequately meet their needs. While utilities may have the resources, skills, and capacity available to internally build a solution, there is much more to consider before venturing down the long path of development. We have identified 5 key factors to consider when evaluating whether to out-source a software-as-a-service platform or to build an application in-house.

Control
The platforms currently available in the marketplace should be extensively evaluated to fully comprehend how each option maps to the needs of the utility. A utility should list out their desired functionality and determine whether a platform misses, meets, or exceeds each item. By completing this mapping exercise the utility will likely find that they are able to get close to 100% of what they are looking for. Nevertheless, a singular utility will not be able to have complete control over the platform's future product roadmap. However this shouldn't discourage any utility since the best software providers will elicit regular feedback and input from their user-base in order to guide development.

By internally building a solution, utility staff will have full control over the features and functionality of the platform. While it may sound cheesy, with that power comes a great deal of responsibility. The utility makes ALL the decisions and will need to manage how each department's desires are balanced and any possible conflicts that may arise. For anyone that has gone through a home renovation, they are keenly aware of the overwhelming fatigue that comes along with making the endless choices associated with each minute detail.

Cost: both fiscal and non-fiscal
When it comes to software-as-a-service (SaaS), the software provider takes on all burdens associated with building and maintaining the solution both financially and non-financially. In turn, the utility is charged a subscription fee for ongoing access to the solution. These costs are generally distributed across a large customer base and thus a SaaS provider is often able to charge a lower amount than would be required to support a one-off application.

If a utility chooses to develop on their own, they must be prepared to bear the entire cost burden of the software. These includes initial building costs, ongoing support, bug fixes, upgrades, and ensuring the software continues to evolve with the growing needs of the utility and its customer base. But it isn't just the financial cost that the utility takes on, it is also the opportunity cost of spending time and effort on this project.

Providing reliable access to safe and clean drinking water is, and always should be, the number one priority for a utility. Building a new software platform has the potential to be a major distraction from other high-priority projects. Prior to making any decision, a utility needs to look at their long-term list of projects they would like to tackle and consider how building a customer engagement and data analytics platform will impact their ability to make progress on these. Choosing a SaaS platform allows the utility to continue to focus on their core business and saves them from any limitations that may be imposed on other opportunities.

Maintenance
As mentioned above, SaaS vendors handle all maintenance of their software platforms behind the scenes and effectively bundle this cost into the subscription cost passed along to the utility. Vendors recruit, train, and maintain top-notch teams specifically skilled in implementing, maintaining, and continually upgrading software. And, their experience is unmatched. A SaaS company takes on these responsibilities not just one-off but hundreds of times for the many utilities in their customer base. With that experience comes extensive best practices and efficiencies.

Once an in-house solution is built and launched, the work does not simply end there. The utility remains on the hook for maintenance in perpetuity. Not only does the utility need to have staff and capacity at the time of development, they must also have a plan in place to continually have resources and staff available to dedicate their focus on this initiative. Future bandwidth and hiring plans also need to be factored in to the utility's investment.

And it isn't just maintaining the software to be sure it is still operating, it is continually refining the solution and investing in design improvements and user-testing. These investments are critical to feel confident that the solution in place will be adopted by customers and will support the utility in achieving their goals. VertexOne invests heavily in user experience design, user testing, and product feedback from our utility partners as well as real end customers. As we develop product enhancements and new capabilities our Product and Engineering teams conduct rigorous testing in a development environment prior to releasing anything into the production environment.

Time-to-value
To frame the evaluation around the time to value, utilities need to ponder the goals they want to reach with the solution. A utility should then think of how long it will be before they are able to even begin making any headway towards these goals. Now, a SaaS platform isn't necessarily turn key or live with the simple flip of a switch once a contract has been signed. But, an experienced vendor will have a clear and structured path to launch. Rapid solution deployment is critical to demonstrating value to VertexOne's utility partners. As such, we have designed a comprehensive implementation process that allows our utilities to see the benefits of our platform as quickly as possible.

The timeline to deploy a new, custom-built application can be a bit murky. Unexpected obstacles or delays will undoubtedly arise. Even reaching an initial minimum viable product may take far longer than a utility expects. Continuing to iterate and improve that solution into a user-friendly platform can take at least 6 months if not years. A utility must look hard at these facts and ask themself: can we afford to wait that long? A SaaS platform is the reliable option for the fastest turnaround to making progress towards a utility's goals.

Power of Community
Choosing a SaaS platform not only gives a utility access to the software and the associated customer support, it also welcomes them to a community of other utilities across the country. A unique benefit of selecting VertexOne as a provider is joining a network of over 150 utilities on our platform. While each utility is unique and special in their own way, many share common challenges and this can become a great source of insights for others in the community. To connect our community, VertexOne hosts periodic Regional User Forums for groups of current customers in a geographic region to gather in person. These forums provide a wonderful opportunity for customers to learn from and connect with neighbors, discuss local issues, and share best practices and practical advice for optimizing the VertexOne WaterSmart platform.

"As I have transitioned to working remotely, I'm finding that the VertexOne WaterSmart Platform is imperative to my capability to do my job. I don't have easy access to other utility systems at this time. I feel so very fortunate!" Karn Boyce, Conservation Manager at Oro Valley, AZ

The community also expands the software's functionality far beyond what may have been on the utility's initial wish-list. The collective lessons and experience of all VertexOne Utility Partners go toward improving the platform continuously. And, the more data we have, the more we can iterate on our platform. Our predictive disaggregation models and targeted messaging are able to be refined, and a utility will be able to continuously delight their customers.

The Hard Part
The decision can be fairly complex; however, these five factors should assist utilities in effectively evaluating whether building an in-house solution or investing in a well-established software-as-a-service platform is the right choice for them. At VertexOne, our number one priority is investing time, resources, and passion into building and maintaining a customer engagement and data analytics platform exclusively focused on meeting the needs of water utilities. After ten years in business, we have learned a number of important lessons along the way, uniquely positioning us to continually innovate, measure, and re-evaluate our platform to provide additional value to utilities and their end-users. Just look to our recent article on driving successful technology change for a taste of what a utility could expect from selecting a SaaS platform like ours.