Research carried out by MIT has found that organizations that achieve digital mastery can increase their profit margins by over 25%. Digital engagement, mastery, and empowerment are well-known buzzwords, but what does that mean for your business? We must reimagine our businesses in the digital age and strengthen the human touchpoints we have. You can use new tools to create or modify existing business practices, culture, and customer experience to meet changing needs and market requirements.
Your customers have a stake in your company's success, and they are asking for improvements in all the businesses they interact with. Consumers have high expectations and want to make sure they use highly transactive platforms with as much information as possible. They care about environmental sustainability and see a positive impact by choosing green energy suppliers. Deloitte recently shared that 50% of residential customers are interested in solar or battery storage, especially in areas with volatile weather events. Digital transformation helps meet your customer's evolving needs, creates new styles of communication, and allows new avenues for business transparency with your customers.
Of course, there are barriers in the way to digital evolution. Here are the top things to look out for according to the Harvard Business Review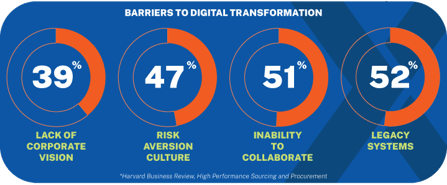 Lack of Corporate Vision: Just because your company knows they should embrace digital doesn't mean they know what to do or how to achieve their goals. True digital transformation requires corporate vision and planning along with reasonable goals.
Risk Aversion Culture: CEOs must adapt to open-mindedness, collaboration, and an entrepreneurial spirit. Organizations must ensure that they facilitate changes from the inside out. You must create a culture where all the members of your business have bought into the idea of moving forward digitally, and where innovation isn't only welcomed but encouraged.
Inability to Collaborate: When you don't work across silos, you lose out. The right technology can have an effect that extends beyond one specific department. The right technology provider will enable collaboration, break down silos, and provide complete visibility.
Legacy SystemsLegacy systems lack flexibility and can be expensive to maintain and change. The digital solutions you choose need to offer a client-first approach, agility, competitive pricing, innovation, and a heavy focus on collaboration.

The roadmap to success is easy once you have the right processes in place. According to IBM, here are the several steps you can take to make your digital transformation successful.
Assess your organization's current digital readiness. We have to look at where the starting line is.
Reimagine business models and processes and develop a digital transformation strategy. By looking at what is and isn't working, you can get a clearer picture of where to head.
Assess and prioritize opportunities based on value by creating business cases and calculating benefits, ROI, and total cost of ownership. The same as any purchase your company would make.
Develop a solution road map that addresses how the strategy will be met, while considering which technologies and services to use, including cloud and cognitive solutions, user experience, and integrated services.
Use design thinking to refine selected opportunities, ensuring they meet customers' needs, and then explore, prototype, evaluate the results, and continue to refine them.
Implement the solution on time and within budget.
Maximize investments and accelerate value creation with governance based on executive engagement, value delivery, and continuous innovation.
Deloitte highlights additional strategies to help achieve digital transformation:
Segmentation:
Acknowledge and identify the differences in product, service, and communication preferences between residential and commercial customer segments, as well as differences within these segments.
Use segment differences to advance a customized mix of products, services, and communication strategies for each audience.
For example, with our billing software retailers can segment-specific groups of customers to provide targeted offers. Rate classes can be demographically structured in ways that fit best for your brand.
Develop segment-specific incentives and communications to convert more consumers' stated interest in participating in energy efficiency programs into action.
Smart contact:
Invest in integrating customer service and communications channels to strengthen the provider-customer relationship.
Consider adopting a smart contact approach that aligns operations with the changing nature of customer interaction, driven by new technology and the behaviors of the connected consumer.
Partnerships:
Partner within and outside the power and utilities industry to help meet evolving customer expectations, especially their desire for energy-efficient products and services.
Use partnering and acquisitions to get in front of new transactive energy programs.
Across the industry, utilities and energy providers have rapidly accelerated their plans for digital transformation. Taking the time to plan, avoid pitfalls, and chart out your unique roadmap ensure you can realize the promise of engagement and efficiency and propel your company toward digital transformation success.