WaterSmart's platform continues to evolve. Previously expanding from water-use efficiency tools to a broader set of customer engagement systems. Now, WaterSmart has expanded to a more comprehensive approach to supporting utility operations with automated solutions that help utility staff get more done in less time. Below are some highlights of how WaterSmart's Fall 2019 Release streamlines utility operations.
Summer's over, but will irrigation change?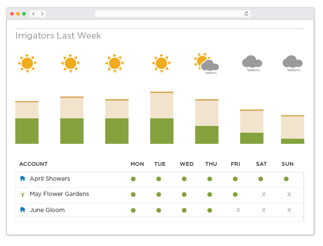 To help manage
the transition between dry summer to rainy fall,
WaterSmart has enhanced our irrigation detection algorithm
.
T
he 'Irrigators
Last Week
'
report
detect
s
and track
s
all irrigation within 48 hours of rain events.
Group Messenger empowers u
tility staff to educate customers
about
timed irrigation
. Messages are even more powerful now with
personalization variables
that
communicate estimated irrigation volume.
Bills, bills, bills
Money is a top priority for everyone. For customers, high bills continue to be the number one driver of frustration and utility calls. The new 'On Track for High Bill' and 'Had a High Bill Last Period' reports enable utilities to proactively identify and communicate with affected customers. These reports compliment existing automated Bill Forecast Notifications. Additionally, a new Evaluate Bill chart on the Customer Portal breaks down a customer's water use by fixed charges and rate tiers, providing context for how consumption affects the total bill.
For utility management, improving payment performance and collections is absolutely critical. The new 'Paperless Billing' module in the Utility Analytics Dashboard delivers key metrics about paperless billing adoption and about its impact on payment time. Group Messenger again empowers utility staff, with templates to promote paperless billing adoption. This is just the first of a suite of new Billing and Payments modules coming to the Dashboard. Stay tuned to the Winter release to hear about the rest!
Dipping a toe in the pool of non-revenue water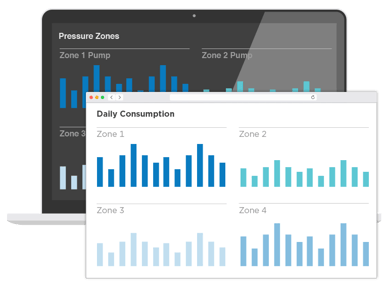 WaterSmart has taken the first step to helping utilities close the gap between the volume of water supplied and the water billed for each month
.
Utility staff now have a 'Daily Consumption' view for the utility in aggregate as well as a
ll
account
Lists in the Dashboard
. The view
aggregates AMI data for the included accounts
, which
utilities can
compare
to daily production data to efficiently identify and prioritize areas of non-revenue water.
This is especially powerful for Lists built by geography,
such as pressure zones or district metered area
s, which are simple to create in the Dashboard with just a few clicks. Look forward to more automation for non-revenue water analytics.
More leaks, really?!
Continuing to build upon
best-in-class
leak detection
and
resolution
capabilities
, WaterSmart has added another flavor of leaks to the menu. Daily AMI leaks join Burst AMI leaks, Continuous AMI leaks, and non-AMI leaks.
This detection
works
for accounts
that collect
AMI data once daily. A
utomated a
lerts are then sent through multiple channels
—
print, email, SMS text message, or voice call
—
to notify customers and send them to WaterSmart's leak resolution wizard, the only in the industry, to help them find and resolve leaks on their own.
ONWARD!
As we move forward, we are excited about our role in helping our utility partners provide value to their customers, and further improve their overall utility operations. We look forward to an even more ambitious and innovative future! To get a deeper understanding of these new releases, we invite you to join our webinar on October 16 for a detailed overview and live demo!